KJs with Karaoke Manager can have visitors add songs from Kj's song list to their songset by just clicking "add". Visit Karaokemanager.com for more information or click banner below for demo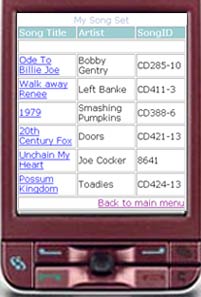 As long as you have your cell phone, your song set is in your hands. It's not just a list of songs you like to sing but special information about each song that you added yourself
The screen on your cell phone is well lit and perfectly suited for browsing songs you like to sing in a dimly lit club
When you click on the song info on which KJ has the song, key, etc. is there. Songs can be automatically loaded from Kjs that have Karaoke Manager.

Log in above to see songs saved
from a previous session and add more or Click on Karaoke company or Venue's song list below to create a new song set or add to your previously saved songs.
MYSONGSET.COM
This is not an application you install on your phone which constantly has the ability to know your location. Best for smart phones with 3&4G capability. You're at a Karaoke club and you're thinking "What do I sing?" or "What did I sing last time" or "What song did I do that was good for this mood?"
Now with your cell phone you can just go to mysongset.com and see your repertoire or song set. Check to see if you lowered the key 2 semitones or whether the song went over well.
Bands will find this useful too. You don't need to carry a piece of paper with you - just break out your mobile device and go to msst.mobi and there's the list of songs you sing with extra helpful hints about each song.
As long as you have your cell phone, you're always ready.